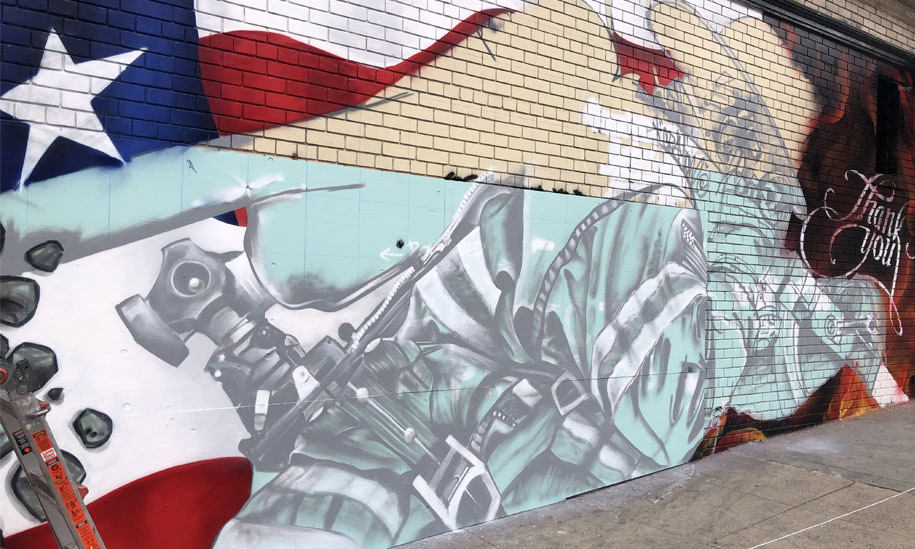 This mural is called Dharma. My agent got a call from one of the more prominent real estate management companies in the Mission District. They wanted a mural on a building that got burned down 3 times in the last 2 years. So once they fixed the exterior of the building we ended up piggy backing off the previous construction company's scaffolding to create the mural. From bottom to the top: Mother Teressa holding a baby, Dr. Martin Luther King, Cesar Chavez, Mahatma Ghandi and to top it all off, a dove representing peace.
Dharma Mural Celebration. My usual M.O. is to finish the mural, take photos, keep your head down, go home and repeat. After years of this outlook i"ve created a portfolio like no other but I missed the opportunity to connect with the neighborhood acknowledgment. Lately I've seen many of my peers doing mural unfailing where the public, politicians and celebrities came out to celebrate the mural and how not only sends a positive message, but also beautifies the neighborhood. I definitely can get used to this! Is this what happens when you paint for over 35 years? I am living my dream.

De La Muertos Mural:Private Collector/Residence: San Francisco, Ca.  8' x 8'. November 2017.  Manny contacted me through my sister in the fire department. He wanted something that was "De La Muertos" related.  So after doing some research together we decided on doing this design. The art took me about couple of days. I came through when ever I wasn't working to work this piece into existence.
YouTube Video.
Face (Detail of Crayone Challenge). Love Oakland Art Gallery, Oakland Ca. Dec 7, 2012 (12'x30'). I met Jaime Galindo  (Love Oakland Group) from an incident where my friend's car was about to be broken into and Jaime and his friends made sure that didn't happen and my friend and Jaime connected. When Jaime told my friend what he was about and what he's doing to the neighborhood to put murals onto local downtown business to curve the vandalism in the area, my friend also mentioned me as a person in the community who is an artist that produces spray can art murals. We connected afterwards and I was invited to one of their block parties and after a mural on top of the local Fire Fighters Union Building, I decided to help them out as much as I can. A few months had passed and Jaime approached me about doing the inside of his gallery. I pulled together a couple of local artists and proceeded to produce work that you see here on this page. This is my first art piece/section on the wall. My friend Blaze aka Picasso did the right side design and hair on this lady's face. This whole project was a concept of mine using only Red, Black and White spray paint. The artists that were involved were Bam TWS, Nate1MPC, Blaze aka Picasso TWS, East3 and Kraze from Hawaii and myself as the lead artist. Contact me for inquiries.